Break the Habit of Negative Thinking
I've never been a big reader of books but one book I've fully read and still refer to is 'Stop Thinking Start Living' by Richard Carlson.  The author describes how our own destructive thinking adversely affects our mental health.  Stop the negative thoughts and we can then exist in our natural state of 'healthy functioning'.  So there you have it, think positively and your mental health issues are cured.  Yes, I can guess what you might say about that but it is possible to break the habit of negative thinking.
The trouble with negative thinking is that it can soon become a habit.  Like any habit, the more you do it, the harder it is to break.  Before you know it, it's got a grip on you and you don't feel you can control your own thoughts.  It can feel as though you're stuck under a shadow you can't escape from.  However, you can.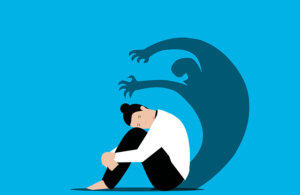 One tactic I employ to try and break this negative spiral is to use distraction techniques.  Often bad thoughts fill the void when we're not doing very much.  So finding tasks that make you focus away from negative thinking can be helpful.
One of my 'distraction' activities is to play video games.  In particular, games that make me think and games I can play on my own, so I can immerse myself in them at any time.  Games that are ideal for this include solitaire, word search, puzzle and memory/observation games.  I'm going to focus on a couple of these, I play online.
Solitaire is perhaps the most famous one-person game.  The classic version is still good but I've discovered some great variations of the original game.
Tripeaks Solitaire is so named due to the layout of the cards.  The game follows the same principle as the traditional Solitaire game.  A single pack of cards is used and 28 are dealt face down in the tripeaks formation, apart from the bottom row, which is face up.  The top card of the deck is then upturned.  The idea is to clear all the cards into the deck by removing any sequential cards displayed.  So in the example below, you would next remove the 5 of Spades and place it on the 4 of Hearts and then continue.  If you can't go, you turn over another card from the deck and try again.  The laid face-down cards are revealed, once no other card is touching them.  Points are scored for each card removed plus bonus points for completing each row.  If you successfully finish the game you will also receive a time bonus to add to your overall score.  If you exhaust the cards from the deck before completing the game, then you lose.  It sounds easy but that's not always the case!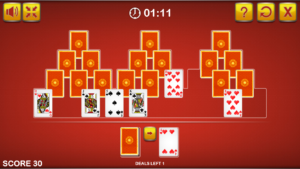 Garden Secrets Hidden Objects Game is one of several games that test your powers of observation, in various locations.  The concept is very straightforward, you just have to find the listed objects that are hidden in the scene.  In this case, it's different gardens.  So you're looking for insects, birds, flowers etc.  The game has ten levels to successfully negotiate before completing.  A simple game… yes.  An easy game… NO!  You really will have to concentrate, some of the objects are very well camouflaged.  Such as trying to find a green insect in a green bush.  Other hidden object games include being set on a pirate ship, in a castle and at a circus.  This site has loads of other different games to try too.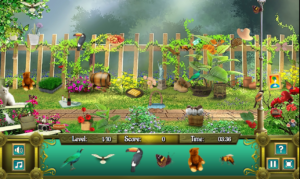 Hopefully, you will find something you enjoy playing.  I'm not saying playing a few video games will instantly make you feel better.  It probably won't.  It's something you have to work on over time.  Whether you choose to play video games, do crosswords, put together a jigsaw puzzle or whatever else.  Find something that you enjoy and occupies your mind and that takes you away from your negative thinking habit.  Treating mental health problems is all about taking baby steps, on the road to recovery.  You may have to find a few different strategies to fully recover.  Using distraction techniques is one strategy I have found beneficial.  It may help you too.